Each year, the ACEC CA Bay Bridge Chapter awards scholarships for current, full-time, undergraduate students in good standing, who are enrolled in an engineering curriculum at a UC Berkeley or SFSU. This application can be used to apply for both the chapter scholarship and the ACEC California State Scholarship. Please make sure to read the eligibility requirements in the application.
ACEC CA Bay Bridge is offering scholarships totaling $6,000.  Applications are due November 22!
The 2019 Scholarship Application is now available!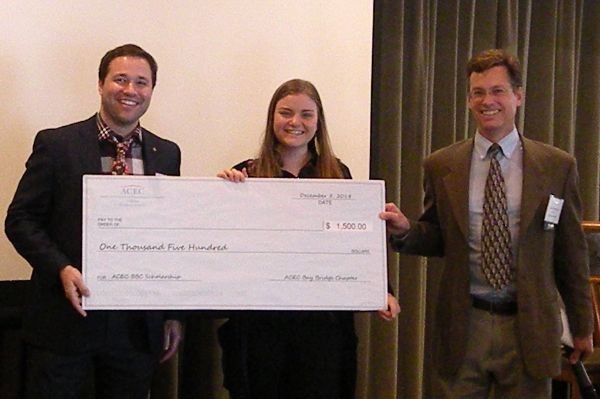 Congratulations to our 2018 Scholarship Awardees Anne Robertson and Callie Clark!
Scholarship checks were presented and a commemorative plaque given at the 2018
ACEC CA BBC Holiday Mixer.
Above image: Anne Robertson (UC, Berkeley student), Anthony Goryl (BBC Scholarship Chair), left;
Jon Porterfield (BBC President), right
Below image: Callie Clark (UC, Berkeley student), Anthony Goryl (BBC Scholarship Chair), left;
Jon Porterfield (BBC President), right